Adagio Gm in 432Hz ft. Negar Nick on Azari Kamanche
Majorhitrecords.com
Why This Project?
Beethoven composed Moonlight Sonata at the peak of his pain. I have always expressed my emotions through my music. 
A not long time ago, due to series of evil acts caused by my own family, lead to a decision where I had to disconnect for life from my entire family in order to move into this new world up and forward. 
These inhumane acts truly impacted my inner being, which results for me to redirect this anger and disappointment into this new release. 
I could not find any better track other than Adagio Gm, as it's super lush legato notes, truly reflect all the torn emotions and pain caused within me. 
What makes this version any different than others?
Although many great artists have performed this mastery, I decided to add my own understanding or emotions to it What is different on this release is that it is performed with supreme lush, accelerated strings run, elastic/portamento note binding that makes this performance very unique.
Why Kamanche? 
This track has never been performed on any type of Kamanche and having an extraordinary artist such a Negar Nick, perform such mastery is a true dream come true. 
About 432Hz 
Adagio has never been performed in 432Hz, most of the tracks you hear today are basically a raw conversion. This is the very first actually 432Hz performance. 
I dedicate this song to all the children around the world who have been subject to any kind of Bullies, verbal abuse or emotional blackmailing. My prayers are with you. May God bless your soul! 
- Art Tawanghar 
Composed by: Tomaso Albinoni 
Produced by Majorhitrecords Inc. 
Azari Kamanche performed by Negar Nick 
Performed and Mixed by Art Tawanghar 
Mastered by: Ali Ramy
432Hz Miracle Healing Music 
Ancient Healing Frequency - Positive Energy Cleanse - Detox Your Heart with 639Hz Solfeggio Frequency. Peaceful, empowering and soothing music and nature to nurture your mind, body, and soul. Supporting and empowering you on your life journey. Music is tuned to 432Hz and contains the 639Hz Solfeggio frequency. These frequencies have a specific healing effect on your subconscious mind. 
432Hz Music Resonates inside our body, releases emotional blockages and expands our consciousness. 432Hz allows us to tune into the wisdom of the Universe, Divine Intelligence, and our Soul. It creates Unity instead of separation. It expands our hearts and makes us more compassionate and loving. One thing is for sure. A person who resonates with love have inner peace – and this is the starting point for a world where we live in Unity, Peace and Harmony with each other and Mother Earth. Spirit Tribe Awakening We are here to serve you. To Inspire, Uplift and spread Positive Energy through music and Intention. To support you wherever you are on your journey. Co-creating more Peace, Love, and Happiness in your life, and the millions of people connecting with us. All our music (self-composed and licensed from other composers) is tuned to 432Hz and 528Hz, and contains Solfeggio Frequencies; Miracle Tones that Heal, Change and Transform low vibrational energy (negative energy). Letting go of negative thoughts and emotions. Recharging the LIGHT within you. Refueling mind, body, heart and soul with Powerful Positive Energy that aligns you with your Innate Power, Potential and Resources. When you RAISE YOUR VIBRATION you also help to raise the collective vibration of our beautiful planet and all life on it. You are important. You are important to this planet. You are valuable. You are a beautiful expression of Life. Powerful BEYOND words.
"At just over seven-minutes long, the recording holds firm to its classical roots, but the shining contemporary nature cannot be ignored. Filled with a medley of powerful emotions and dramatic, musical turns, it's a careening and wonderfully expressive piece that is almost impossible to ignore."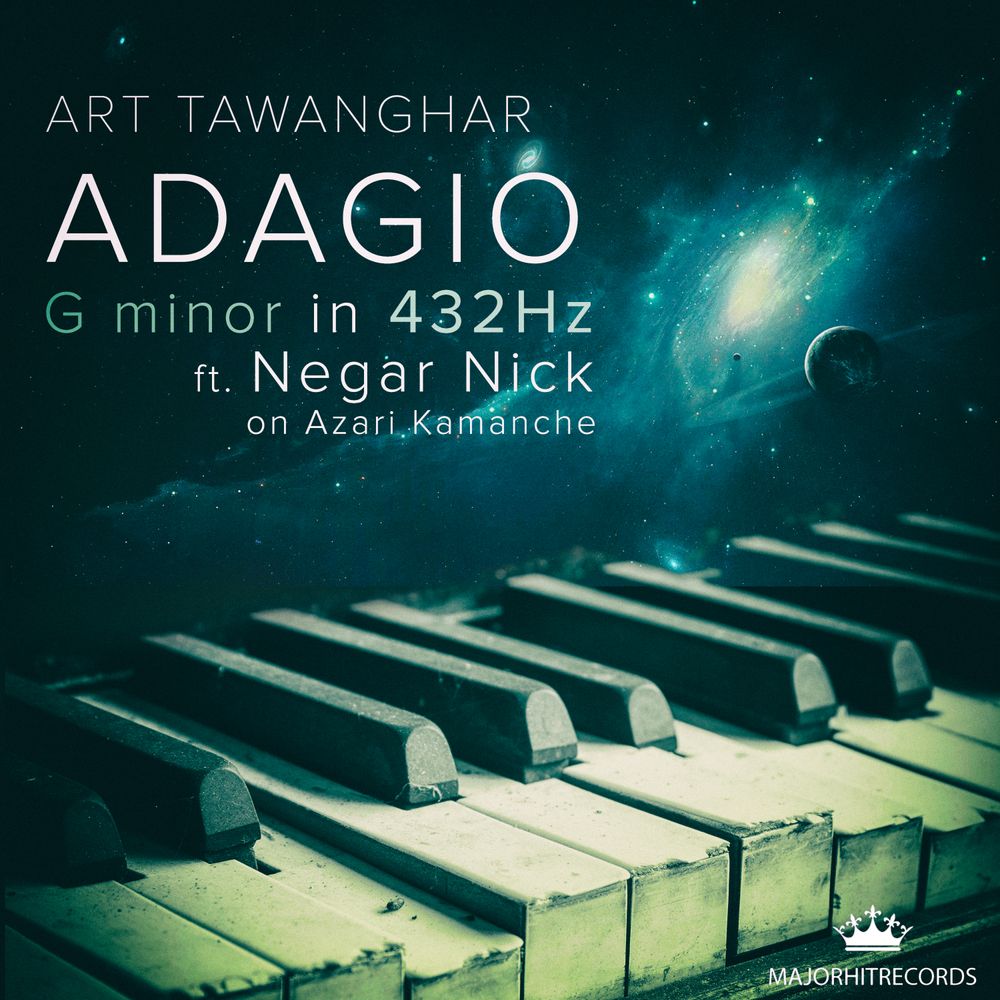 "Art Tawanghar has crafted a modern-day masterpiece with his Adagio Gm Tomaso Albinoni In 432Hz. The strings (contributed by the featured Negar Nick on the Azari Kamanche) that begin the effort call back to the composers of the 18th and 19th century. The deliberate pacing of the composition ensures that listeners will remain attention. The panoply of interactions that occur at any only second of this composition create a heady, dense composition that continues to show new twists and turns even multiple plays in." - James McQuiston