432Hz? Why? 
Listening to 432Hz music resonates inside our body, releases emotional blockages, and expands our consciousness. 432Hz allows us to tune into the wisdom of the Universe, Divine Intelligence, and our Soul. It creates Unity instead of separation. It expands our hearts and makes us more compassionate and loving. 
One thing is for sure. A person who resonates with love have inner peace – and this is the starting point for a world where we live in Unity, 
Peace, and Harmony with each-other and Mother Earth. 
More Details 
Download Track
https://majorhitrecords.com/single/16892/mind-reverse-hypnosis-432hz-meditation-with-romantic-indian-flute-binaural-3d
DID YOU KNOW? 
Verdi used several tunings across his life. As an opera composer, he was aware of the pitch inflation (pitch standards rapidly rising to achieve a brighter orchestral sound) that was happening in his time and was concerned it was putting a strain on the singer's voices as they struggle to hit the high notes on a score. 
Verdi has requested his Requiem to be tuned to 435 Hz (according to the 1859 French "diapason normal" standard) and in a later letter, he has expressed a slight preference for 432 Hz. Verdi is the only known composer to even hint towards 432 Hz, and it was obviously for completely different reasons than cosmic spirituality.
Mastered for Apple Digital Masters by Jeff Silverman Palette Studios Nashville / Mt.Juliet TN
WATCH ON YOUTUBE: https://youtu.be/zhMhvR3__zs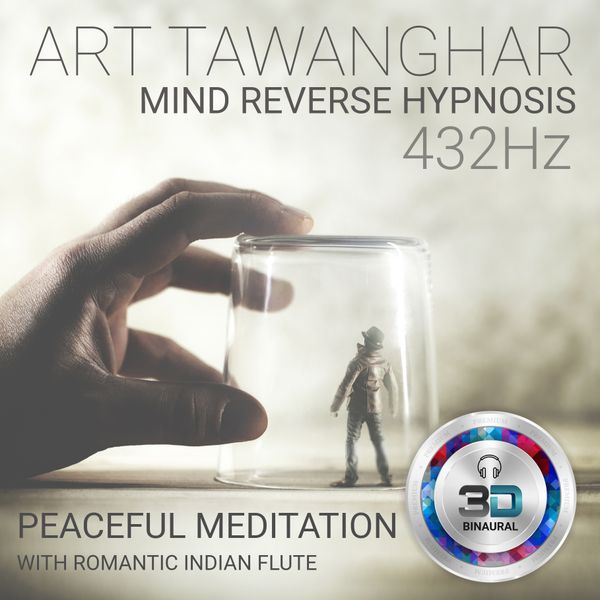 What is 3D Binaural Recording?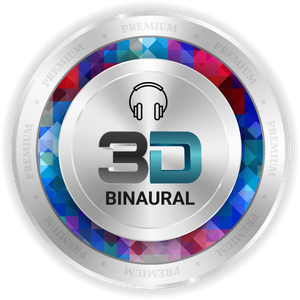 3D Binaural immersive audio recordings 
Study and Science Behind Binaural ( how does it work? ) 
A prospective, randomized, controlled study including over 100 people about to undergo surgery found that binaural beats were able to significantly reduce preoperative anxiety compared to similar audio without the binaural tones and no audio at all. In the study, anxiety levels were cut in half for people who listened to the binaural beat audio. 
https://naturehealingsociety.com/432hz/WIKBinaural recording is a method of recording sound that uses two microphones, arranged with the intent to create a 3-D stereo sound sensation for the listener of actually being in the room with the performers or instruments. 
Binaural or Binaural 3D audio is audio captured identically to the way we hear the world. When audio is captured with a binaural microphone like the Hooke Verse, it is capturing the exact location of every sound source and where it is in relation to the recordist upon capture. 
What's the difference between binaural and stereo? 
Stereo= two different channels of the audio signal, recorded with two microphones spaced apart (or with a single microphone with two elements) ... Binaural=two different channels of audio, recorded on either side of a human or artificial head, preferable in the ears. 
Do binaural beats actually do anything? 
A 2017 study found that binaural beats used in combination with visual stimulation led to reductions in patients' perception of acute pain. Other recent research showed binaural beats helped improve pain perception in patients with chronic pain. This is good news on its own—and also promising news for sleep. 
How Can BINAURAL Help me? 
Enhanced Meditation 
Mindfulness 
Sleep 
Reduce Anxiety 
Increased Focus 
Lower Stress 
Increased Relaxation 
Improve Mood 
Promote Creativity
How can brainwave entrainment enhance meditation?
There is plenty of definitive clinical research on how sound and music can be used to activate the brain and memory and create more mental clarity. We know that high frequencies activate the mind. We also know that sounds and music that are changing all the time also activate the mind. Low frequencies calm the body, and repetitive sounds and music allow the left brain to go to sleep. The right brain then takes over and we are able to go into deeper or higher states of consciousness. 
Understanding Brainwave Frequencies 
Then there is the frequency of the brain. Different parts of the brain vibrate at different rates: delta, theta, alpha, beta, and gamma. There have been many clinical studies using EEG to measure these brainwave rates, so science is very definitive. Science has also proven that when you create a frequency or rhythm that falls within one of these brainwave states, your brain will entrain to that frequency within one minute. 
Using low frequencies to entrain the brain can help with stress and pain reduction, ADD, ADHD, and is helpful for relaxation, meditation, sleep, learning, enhanced creativity and intuition, being more present, telepathy, and connecting to Source. When the frequencies are played on headphones, they also synchronize the left and right hemispheres of the brain.
ART TAWANGHAR 
BILLBOARD #1 AWARD WINNING PRODUCER 
Is an award-winning and Billboard charting composer, musician and multi-genre producer, who combines electronic production, live instrumentation, and a variety of Western and Eastern cultural influences to craft his uniquely relaxing and soul-searching sounds. Tawanghar released his spiritually searching album "Soul of the Earth" in 2016. 
A year later he dropped "Buddha Lounge", the instrumental album charted on Billboard #1 for 13+ weeks in the New Age Chart. This was followed by "Buddha Lounge 2" which won many accolades, and was also considered for the 61st Grammy Awards. 
June 2019 sees Art Tawanghar raise the bar even higher, with the releases of "Buddha Lounge 3 Chill – New Age California" – containing 7 deeply meditative and life-affirming songs. Everything within its leaps and bounds is quite remarkable on this album, either through pure musicality, or the immense emotional basis that Tawanghar's arrangements thrive on. None more so than the surprising opening track 
StereoStickMan Interview 
stereostickman.com/interviews/art-tawanghar/ 
Underground Radio Interview 
www.collegeundergroundradio.com/index.php…tawanghar 
Article About Art on From Mines Fields to Billboard: 
www.ootonline.com/issues/3902/file…tml/page-22.html
Rakesh Chaurasia 
INDIAN FLUTE PLAYER 
Rakesh Chaurasia, the nephew and child prodigy of flute maestro Pandit Hariprasad Chaurasia, has a famous name to live up to. Amongst the promising musicians of the second generation, Rakesh has carved a niche for himself as an accomplished flautist. Infusing his personal style with the tradition of his renowned uncle, he has evolved an approach that maintains the purity of the flute while also managing to capture the attention of young listeners. The most accomplished of his uncle's disciples, he promises to carry the Chaurasia legacy to new heights. 
Rakesh's flute has matched note and rhythm with wind instruments of other cultures as well as having performed with Carnatic and world famous instrumentalists. Rakesh's forte is in blending his flute without really losing its identity in mixed instruments' concerts. Rakesh has already globe-trotted many times over, enthralling audiences at classical and non-classical concerts .He is also an accomplished studio musician, having recorded with most of the leading stalwarts of the Indian film industry. 
Rakesh has been the recipient of numerous awards and accolades. He received the Indian Music Academy Award, presented by the Honourable President Of India, Dr. A.P.J. Abdul Kalam in 2007, the Aditya Birla Kalakiran Puraskar in 2008, the Guru Shishya Award in 2011, IWAP-Pandit Jasraj Sangeet Ratna Award in 2013 and the Pannalal Ghosh Puraskar 2013. 
Despite his experimental work, Rakesh has never deviated from his main goal of becoming a full-fledged classical musician. He has regularly appeared in prominent festivals such as the WOMAD festival in Athens, Womad Earthstation in Europe, and the 'Festivals of India' in Russia, Japan, the US, and Europe, His growing maturity and status has brought him invitations to perform solo at major events within India and abroad, including the Festival of Saint-Denis in Paris and the Leicester International Music Festival in England. Most notably, Rakesh was invited to conclude the twenty-four hour live BBC Radio broadcast celebrating Her Majesty Queen Elizabeth's Silver Jubilee, reaching audiences worldwide. 
Recently Rakesh toured with legendary tabla virtuoso Ustad Zakir Hussain both as a duo for classical concerts as well as for The Masters of Percussion at prestigious venues across the globe. Rakesh has also performed with such international names as Bêla Fleck, Edgar Meyer, and Joshua Redman.  Rakesh's most recent venture is his fusion band Rakesh and Friends (RAF) which creates music that appeals to the young without sacrificing the essence of classical music.