Quick & Easy Guide to Sharing Your Press Release with the WorldA press release has landed in your inbox with the instructions to 'get this out ASAP!' This guide will help you collect the required information before contacting your press release provider and to shorten the time from your inbox to distribution to the world.

Getting Started 
The first step is to read the press release. Being knowledgeable on the content that you've been asked to distribute will allow you to more easily answer questions from your distribution provider and make intelligent choices when it comes to your options. 
What are the communication goals? 
Is your PR or Marketing team interested in brand awareness, media coverage, website traffic, or a different objective? 
Who is the intended audience? 
Is your press release intended for the media? Consumers? Analysts? Investors? Most of our services have target distribution lists that can help you reach the audience that is most important to your news or brand. 
Press Release Components 
The next step is to make sure that the press release includes all of the necessary elements to attract media and end-user attention. Completing the checklist below prior to contacting your distribution provider will help you save time and avoid a lot of back-and-forth while trying to piece these items together. 
Headline (Title)
The headline should grab readers' attention and draw them in for more. It should also be short enough to be tweeted, about 100 characters, leaving your audience some space to add hashtags, comment, etc. 

How to Write Press Release Headlines That People Actually Read
 
To be fair, I haven't actually seen Snakes on a Plane. And, in all honesty, the title has its good points: It's succinct and we get a very clear vision of what the movie is all about. If only all press release headlines incorporated that measure of clarity, but without the negative press attention. Take a look at a couple of examples of headlines that make you go hmmm.... 
Example #1: 

Now, granted this one isn't awful. But it doesn't say anything exciting -- or new. Don't we already know that car companies are making things greener? 
Example #2:


What's wrong with this one, other than that it has the excitement of a washing machine repair manual? Well, it makes it sound like Dell is doing something philanthropic, when in reality, the news is that Dell is teaching people how to use its product. Who cares? 
Example #3:


Where to start with this one? First, it's way too long, and the title isn't even capitalized. And, "That Dream Bigger Property?" Am I being encouraged to dream bigger, or is the property itself bigger? 
How could these have been improved upon? Well, let's try a few variations: 
1. Honda, Nissan, and Toyota Unite to Create a More Eco-Friendly World 
2. Dell's Teaching and Learning Academy Makes Using its Products a Snap 
3. 4 Steps to Secure Your Dream Property 
Now, for a few stellar examples of press release headlines:


This gets you curious and laughing at the  funny mental image. Plus, this is great PR for a company that functions in an industry receiving constant scrutiny. Good going, United.
Besides being a big fan of Square products, I like the simplicity of this headline. I'm wondering how Square Cash works, so I click on the search engine friendly headline.


This one is just about perfect in length, it elicits an emotional response (aren't you curious to see the video?), it plays off of a trending topic (soccer), and you have the added bonus of knowing there's a video waiting.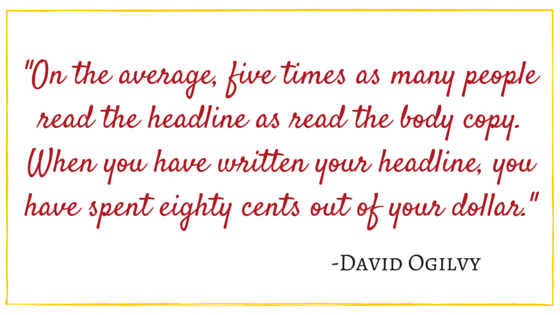 Recipe for Potent Press Release Headlines 
Analyzing other headlines is a great way to get a feel for what works and what doesn't. However, there are a few tried and true ingredients to make your headline a success. A pinch of each of these tips will go a long way to getting your headline (and release) noticed.
1. Make it Short and Sweet 
Long headlines will get truncated in many readers and search engines. And readers and search engines aren't the only ones who get bored with long titles. People want to look at your headline and get an immediate idea for what your release is all about. 
Try this:
Keep it to a hundred characters or less for optimal text appeal. 
2. Make it Twitter Friendly 
This concept falls in line with keeping it short. However, your social media audience is ever more conscious and appreciative of pithy wording. When you create your headline, make sure to word it so it will be easy promote on social media.
3. Make it Powerful 
Using passive voice can be... well.... kind of... weak. You get the idea. 
The truth is: 
Using passive voice weakens your message (That's better, right?). Instead, use active voice. Active voice writing is much more powerful and makes you sound like a leader.
4. Make it Emotional 
Even the most hard-core executive has an emotional side. It's just plain human nature. Tap into this by creating headlines that elicit emotions such as humor, anger, and curiosity.
5. Make it the Last Thing You do 
Some may argue this point saying your headline sets the tone for your release. However, after you create your release, you'll have a better overall picture of the image you want to present and the feeling you want to create. Make your headline the last thing you create and you'll see how to better incorporate your thoughts into one well-honed headline. 
6. Make it Trendy 
Use keywords in your headline that are popular on social networks. In other words, be aware of the terminology that is commonly used. If you commonly use the term B2B Public Relations, but hashtags on Twitter are using B2B PR, then make sure you use the more common version in your headline.
 
7. Make it Something You'd Want to Know About 
It may sound self-evident, but you want to write a headline in a way that you find interesting to read. It can be all too easy to get caught up in just putting the information out there without stopping to think of whether or not it would actually catch your eye if you were the reader. 
8. Make it SEO-Friendly 
Remember that although you are writing for people, you're also writing for search engines. Place keywords not only throughout your release and in subheadings, but prominently in your headline. They should be the in first 1-3 words.
 
9. Make it Pass the Test with Flying Colors 
Using a headline analyzer, such as the one CoSchedule offers, isn't a sure win against headline failure, but it helps you to get your footing. Enter your headline, and you'll see how to improve on your working title. 
For instance, if I plug in How to Write Press Release Headlines, I get a score of 65 and a grade of C-. Yep, it's a yawn. It has no scoring among common words, powerful words, or uncommon words. It received a 33% on an emotional level. You are aiming for a balance between all four groups. 
So, if I put in How to Write Press Releases That People Read,  I receive a score of 68 and a grade of A+ for my word balance. Not bad. A score around 70 or above is considered excellent.
Now, the Rest of the Story 
Writing a kick-butt headline is truly one of the best things you'll do to get your release noticed. However, for every thoughtless headline, there is an equally staggering number of thoughtless releases that follow suit. How can you be sure that yours isn't one of them?
Subhead: 
This is where you can add more detail with a descriptive subhead, which informs search engines and further engages readers. 
Dateline: Includes the city of origin and the date of release. 
Media Contact Information: Be sure to include a contact name, phone number, and email address for journalists and bloggers to use if they are considering picking up your story and require more information. 
Boilerplate: This is the space to tell your readers about your organization. Keep it brief, avoid jargon and include your website URL. 
Best practices 
There are also items beyond your headline, subhead and media contact point, that are necessary components of a successful press release. These components can be the key to increasing visibility and engagement, as your audience will be more engaged and likely to utilize your release in some way (in an article, shared via social media, etc.) if there is more there to support your story.
 
Multimedia 
Multimedia content grabs attention, amplifies your message via shares, likes, and tweets, and has been shown to increase views by as much as 2.8 times1, so consider adding images and/or videos to set your press release apart. 
Was multimedia content created that is relevant to the news, campaign or event mentioned in the press release? This would be an ideal time to get extra mileage out of that content by sharing it with a new audience 
Does your PR or Marketing team have standard, preapproved images that you can select from?
 
Social Sharing 
Updating your press release to include easily shareable elements, such as a tweetable headlines and quotes, boosts your potential for earned media and online engagement. 
If you are promoting an event that has a hashtag, be sure to include this information in your press release 
Try using a relevant and popular hashtag in a tweet-ready headline—keep it to about 100 characters and make it interesting 
The obligatory quote? Craft it for Twitter by dropping the hyperbole and editing it down into a 100 character statement that makes a key point 
Encourage social interaction by including the handle of anyone you quote in the press release 
Translation 
If your organization or the content of the press release appeals to a multicultural audience, this is an excellent opportunity to distinguish yourself from your competitors. 
When appropriate, consider translating your message to connect with your audience through additional languages, even within the US or Canada. The time required to translate your press release will be dependent on the length of your press release.
 
Behind the Scenes 
Now that you have brought together and tweaked all of the information required for your press release, it's time to reach out to your service provider. Here's a list of all the things taking place behind the scenes at Majorhitrecords to get press releases ready for distribution: 
Proofreading 
Spelling mistakes, grammatical errors…we've seen it all. Your press release may have gone through several levels of review but an extra set of eyes, with editorial experience, never hurts. 
Consistency is key. We review things like acronyms and the names of people and places to ensure that they are spelled accurately throughout your press release. 
Our team also reviews the full press release to verify that the content makes sense overall.
 
Consultation 
Our team leverages their experience to share what works, what doesn't, and how a press release can be optimized to help an organization meet their goals. 
A best-in-class distribution provider will offer insider tips and suggestions on how your press release can cut through the noise and make an impact. 
Formatting 
Press releases are inputted into our editorial system in order to be distributed online and to the media. 
If your press release contains any elements such as links, tables, or multimedia, some additional time will be required to format these components so your news looks perfect. 
Now that you are armed with the answers you need to distribute your press release, it's time to get started! If you have questions about which options make sense for your next release, a Majorhitrecords team member would be happy to offer consultation.
 
ABOUT Our PR services
For more than 23 years, we helped PR, corporate and marketing communications, and investor relations professionals achieve their communications goals – from building awareness with new audiences and gaining media pickup, to managing reputation and inspiring investor confidence – by sharing, targeting, tracking and enhancing their messages to make the most of their communications campaigns and content investments.

contact@majorhitrecords.com