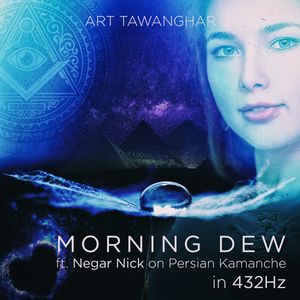 Why This Project? 
Meaning of the name "Taliya" 
Derived from the Hebrew words 'tal' meaning 'dew' and Yahweh , referring to God. The name can either mean 'dew of God' or 'morning dew'. 
Why Morning Dew? 
The ancients considered dew to be traces of a subtle substance left by Eos, goddess of the dawn. At other times Diana was often called "The Dewy One." In the dry warm climate of southern Europe, dew was essential to plant life. 
Dew also was an essential part of fertility rites of southern Europe. Women wishing to become pregnant would lay nude on the backs beneath the moon until sunrise. Thus she was covered by and bathed in dew, considered a potent potion for fertility. In Italian Witchcraft, dew is collected from sacred herbs, kept in small bottles and used as holy water for blessing and purification. 
Persian Kamanche Arranged and Performed by Negar Nick. 
Negar Nik has started learning the Kamanche since 1998 under the supervision of Yashar Shadpour in Tabriz, Iran. She was awarded the first rank soloist in 2005 and 2006 in National Student Soloist Competition. She has been a professional Kamanche player in several Azerbaijani orchestras and she has also had many successful concerts in Iran. Negar has taken a course mastering a number of vocal techniques and working on arias of popular operas offered by Masoud Amirsepehr. She has recently moved to Australia and continues her musical path in the Toranj ensemble. 
Instagram: www.instagram.com/negar.ahmadi.nik/ 
Soundcloud: @negarnik 
432Hz Miracle Healing Music 
Ancient Healing Frequency - Positive Energy Cleanse - Detox Your Heart with 639Hz Solfeggio Frequency. Peaceful, empowering and soothing music and nature to nurture your mind, body, and soul. Supporting and empowering you on your life journey. Music is tuned to 432Hz and contains the 639Hz Solfeggio frequency. These frequencies have a specific healing effect on your subconscious mind. 
432Hz Music Resonates inside our body, releases emotional blockages and expands our consciousness. 432Hz allows us to tune into the wisdom of the Universe, Divine Intelligence, and our Soul. It creates Unity instead of separation. It expands our hearts and makes us more compassionate and loving. One thing is for sure. A person who resonates with love have inner peace – and this is the starting point for a world where we live in Unity, Peace and Harmony with each other and Mother Earth. Spirit Tribe Awakening We are here to serve you. To Inspire, Uplift and spread Positive Energy through music and Intention. To support you wherever you are on your journey. Co-creating more Peace, Love, and Happiness in your life, and the millions of people connecting with us. All our music (self-composed and licensed from other composers) is tuned to 432Hz and 528Hz, and contains Solfeggio Frequencies; Miracle Tones that Heal, Change and Transform low vibrational energy (negative energy). Letting go of negative thoughts and emotions. Recharging the LIGHT within you. Refueling mind, body, heart and soul with Powerful Positive Energy that aligns you with your Innate Power, Potential and Resources. When you RAISE YOUR VIBRATION you also help to raise the collective vibration of our beautiful planet and all life on it. You are important. You are important to this planet. You are valuable. You are a beautiful expression of Life. Powerful BEYOND words. 
Art Tawanghar 
BILLBOARD #1 AWARD WINNING PRODUCER 
Is an award-winning and Billboard charting composer, musician and multi-genre producer, who combines electronic production, live instrumentation, and a variety of Western and Eastern cultural influences to craft his uniquely relaxing and soul-searching sounds. Tawanghar released his spiritually searching album "Soul of the Earth" in 2016. 
Produced by: Majorhitrecords 
Composed/Performed and Arranged by Art Tawanghar 
Persian Classical Arranged by Negar Nick